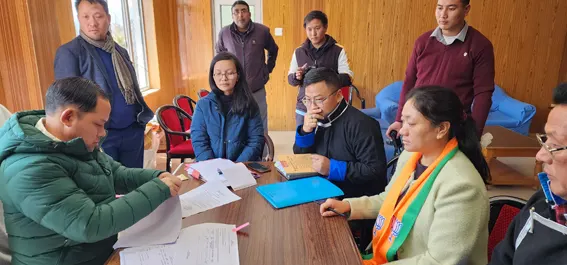 TAWANG, 2 Feb: Tsering Lhamu, the widow of former MLA late Jambey Tashi, on Thursday filed her nomination as the BJP candidate for the by-election to the Lungla assembly constituency in Tawang district.
The candidate, along with two proposers and an advocate, filed her nomination before the returning officer (RO) in the morning.
The last date for filing nominations is 7 February. The nomination papers will be scrutinised on 8 February, and the last date for withdrawal of nomination is 10 February.
Meanwhile, the RO of the Lungla assembly constituency, RD Thungon, during a meeting with deputy DEO Rinchin Leta and master trainer Tashi Dhondup said that "the SOs must immediately visit their respective sectors and inspect polling stations to assure minimum facilities in every polling station and intimate election office of any shortcomings, so that timely rectification in any polling station can be done before the poll."
Dhondup on his part said that "the SOs are linked between the RO, the polling team, the police, and the polling stations in their respective jurisdictions."
Speaking about communication system, SP Bomge Kamduk informed that "every vehicle attached with SOs will be provided with VHF sets and walkie-talkies, and communication plans will be shared with all the SOs." (DIPRO)