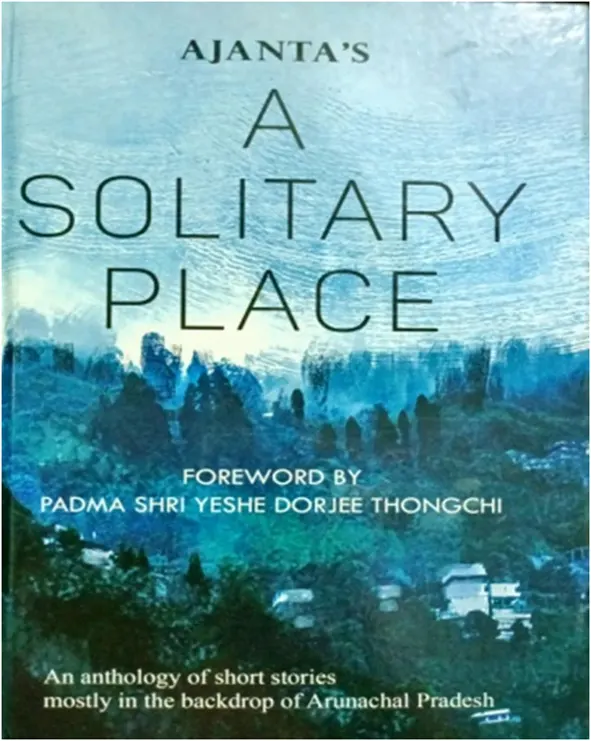 A Solitary Place
Author: Ajanta
Bedakantha Books & Publication
Pages: 440
Price: Rs 595
[ Yater Nyokir ]
The startling landscapes and striking cultures of Arunachal Pradesh have fascinated many sojourners who came to Arunachal Pradesh. They were so inspired and overwhelmed by the Arunachali motif and spirit that they made Arunachal their literary home. These sojourners weave their experiences in their writings and give a beautiful perspective on Arunachali cultures and social values. These writings also make substantial development in the Arunachali literary space called 'writings on Arunachal'.
Ajanta, a prolific Assamese writer and winner of the 2022 Luminous Lummer Dai Literary Award, spent much of her life in Arunachal Pradesh. She says, "Arunachal Pradesh is my place of work and worship… I am an adoptive daughter of these green hills."
Her book, A Solitary Place, is a testimony to her adoration and affection for the land. The anthology is a collection of 31 immersive short stories. It is the English translation of her award-winning works originally written in Assamese. Most of the stories are written primarily against the backdrop of Arunachal Pradesh.
The opening story, same as the title of the anthology, A Solitary Place, is a petition for protection of the degrading natural environment in the state. 'Swarga Yatra' (Voyage to the Heaven) is a story of a serpent that was killed by humans while he was in search of food for his pregnant wife. Unaware of his death, his wife keeps waiting for his return. The story reveals how we humans have pushed wild nature to the edge of extinction by our recklessness and insatiable greed. The story compels the reader to re-evaluate their actions toward nature.
In a male-centric world, feminine attributes are often stigmatised and demeaned. Ajanta revolts against this irrational idea by her soft means. She takes literature as a refuge to raise her voice against gender hegemony. Written from a feminist perspective, her stories question the validity of societal norms and dismantled patriarchy. 'The Blind Stick', 'Overtime', 'Sparsh the Touch', 'Death Festival', 'The Marmalade Town', 'Landslide', 'The Gold Spoon', 'Pencil Heel' and 'Counterstrike' are everyday stories of many women who become victims of sexual exploitation, domestic violence and workplace sexual harassment. These women are of varying ages and come from various circumstances, classes and races.
One of the most poignant stories of the collection is unassumingly titled 'Kinnar'. The story is a sensitive portrayal of the plight of a transgender woman and her struggle for social acceptance. Besides, there are more stories in the anthology that will hold your attention and leave a lump in your throat.
A Solitary Place is a cry for compassion, and it propagates the idea of the right to life for every living being on Earth with equal respect, honour and acceptance. The book wins the heart of the reader with its ease and emotion. It is a welcome addition to the reading list of bookaholics. (Yater Nyokir is a member of the Arunachal Pradesh Literary Society)