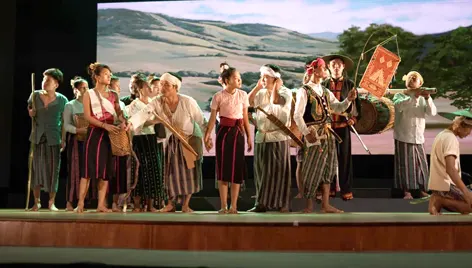 Staff Reporter
ITANAGAR, 6 Feb: A theatre festival chronicling the war heroes of Independence is kicking off on 13 February. The theatre festival titled 'Unsung Heroes' would feature three plays Chowpha-Plang-Lu, War Cry of the Mountain, tale of Matmur-the Abor Hero and Ninu 80-The Anglo-Wancho Conflict of 1875.
This was informed by Unsung Hero Theatre project director-cum-National School of Drama (NSD) assistant professor Riken Ngomle on Monday during a press conference held at the Arunachal Press Club.
The theatre festival is a part of 50th Years Celebration under the initiative of the state government. The play is a profound tribute to unsung heroes who fought the battle of Independence against the British Raj in Arunachal.
"Our first play Chowpha-Plang-Lu which chronicles Anglo-Khampti war of 1839- the first war of Independence fought in Arunachal land, would be staged on 13th February from 20:23 at Dorjee Khandu Convention Centre Hall, Itanagar" informed project director Riken Ngomle.
"The Khamtis were the first people who fought first war of Independence from Arunachal, but we don't know anything about them.
Through theatre we would tell the stories of valour and pay tribute to those unsung heroes," Ngomle added.
Chowpha-Plang-Lu is being directed by Ngomle himself and scripted by Himanshu B Joshi.
The War Cry of the Mountain, tale of Matmur, the Abor Hero is being directed by NSD graduate Goge Bam and scripted by Padmashree Y D Thongchi. War Cry of the Mountain would be staged on 16th February. It features Matmur Jamoh, the Abor hero, who killed Neol Williamson, a British Political Officer and about the Abor Expedition of 1911-12.
Ngomle informed that crew and artists of War Cry of the Mountain were hired from Adi areas. The artists were trained for one month at Dambuk prior to this play. Similarly, for Ninu 80 The Anglo-Wancho Conflict of 1875 and Chowpha-Plang-Lu, local artists were given preference and trained.
Ninu 80-The Anglo-Wancho Conflict of 1875 would be staged on 19th February on eve of the statehood day celebration. The play would feature- Anglo-Wancho war of 1875 where Wancho massacred 80 British soldiers including Lt. Holcombe. In retaliation, the British sent its troops with advanced artillery and burnt down many villages.
Nino-80 is being directed by Rilli Ngomle, who has a master's degree from NSD.
"Through these plays our attempts are to rediscover our own folk tales and cultural essence as ours is oral based history," added Riken Ngomle urging people to come and enjoy the plays.
Celine Tengam Koyu, who is acting in one of the plays informed that Bollywood's renowned casting company MCCC's casting director Mukesh Chhabra would witness the plays.
"Khalid Tyabji, international famed veteran artist from India and his wife Katarzyna Marcysiak will also attend the festival to witness the plays," added Koyu.