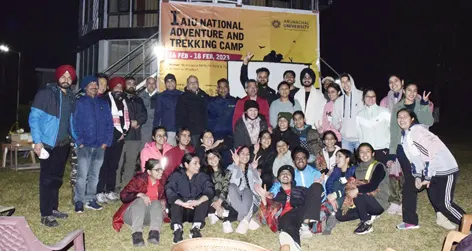 NAMSAI, 19 Feb: The first-ever 'national youth adventure & trekking' camp of New Delhi-based Association of Indian Universities (AIU) was organised by the Arunachal University of Studies (AUS) here from 15-18 February.
The inaugural programme featured a discussion on the importance of the event, during which Namdapha National Park & Tiger Reserve (NNPTR) Research Officer Tajum Yomcha presented a brief on the biodiversity of the national park, while NNPTR senior herpetologist Ashok Captain apprised the participants of the snakes in India, and NNPTR field biologist Mayur Waria shared information about the methods and procedures adopted for knowing the population of tigers and various animals inhabiting the national park.
On 16 February, the group trekked from Deban Camp to Haldibari in the NNPTR. The AIU team participated in activities such as elephant rides and rafting on the Noa-Dehing river, besides witnessing various species of flora and fauna.
On 17 February, the students were taken on a trip to the park for bird-watching. The team later visited the AUS, and the Golden Pagoda near Namsai.
On 18 February, essay writing (English and Hindi), painting, cartooning, and photography competitions were held.