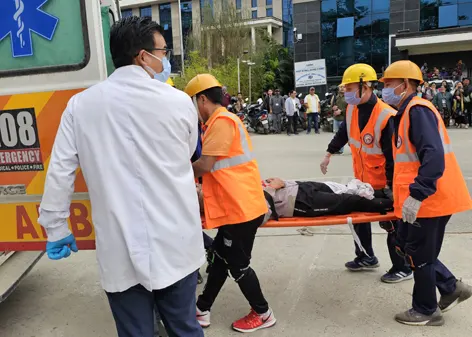 ITANAGAR, 24 Feb: The disaster management department, under the supervision of Disaster Management Secretary Dani Salu, conducted a mock exercise on 'earthquake disaster scenario and other disaster emergencies' at the civil secretariat here on Friday.
The objective of the mock drill, which saw the participation of secretaries, officers and
staffers of the four blocks of the secretariat, was "to review the emergency preparedness plan of all the staffs, officers and other responding agencies such as NDRF, SDRF, fire & emergency services, police, medical team, etc," the department informed in a release.
"Creating an earthquake scenario of 8.7 Richter scale, siren was blown at 11:15 am. All the four blocks of civil secretariat were affected and reports of injuries were received. It was assumed that there was massive destruction, such as collapse of buildings, chemical leakage, and fire accidents. The staffs and officials were evacuated safely to the identified safe place. Personnel from the NDRF, SDRF, the fire and emergency services, etc, were used in the search and rescue operation of the presumed victims," it said, adding that "Aapda mitra volunteers also actively participated in the exercise."
The presumed victims were immediately given first aid and shifted to the nearest hospital.
The method of 'duck, cover, and hold' during an earthquake was demonstrated by NDRF personnel for the benefit of the participants.
The NDRF also set up stalls displaying various search and rescue equipment, and distributed pamphlets containing the dos and don'ts during disasters.
During the debriefing, Disaster Management Director Komkar Dulom spoke about the vulnerability of Arunachal Pradesh to earthquakes, and the need for conducting such exercises at regular intervals.
He also appealed to the citizens across the state to "not believe in rumours which have been circulating on social media about an earthquake hitting the Northeast," and added that "till date, no scientist has ever predicted an earthquake."
Disaster Management Assistant Director Papang Duggong also spoke.
In Upper Siang district, the 12th Bn NDRF, in collaboration with the district administration, the disaster management authority, the fire & emergency services, and the health & family welfare department, conducted a mock exercise on earthquake preparedness in Yingkiong.
ADC (HQ) Dochora Lama said that the "techniques demonstrated by the NDRF will definitely be helpful for the people during any eventuality, and at the same time dispel the rumours going around on social media in Upper Siang district too regarding occurrence of earthquake on 26 February."
He requested the people to not panic or believe in such rumours.
Assistant Commissioner Himanshu Nigam also spoke. (With DIPRO input)