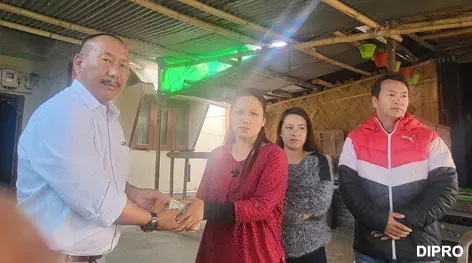 ITANAGAR, 27 Feb: Upper Subansiri DC Mika Nyori on Monday visited the family members of Everester Tapi Mra, who went missing along with his aide Niku Dao in August last year while attempting to climb Mt Kyarii Satam, situated at an altitude of 6,980 mtrs, in East Kameng district.
Nyori interacted with Mra's wife Juna Gollo Mra and other family members, and informed that "the resolution adopted during meeting in November last year to rename the Rijo stadium as 'Tapi Mra Stadium' has already been forwarded to the state government."
The DC handed over Rs 1,35,000 out of the Rs 2,85,000 contributed by Tagin officers and Tagin ZPMs for the search operation for the
missing Everester, to Juna Gollo Mra, Tagin Cultural Society (TCS) HRD secretary Dosh Dasi informed.
"Earlier, Rs 1,50,000 out of the total contributed amount was given to the East Kameng DC for the search and rescue operation," said Dasi, who was the leader of the committee constituted by the TCS to oversee the search and rescue operation for Mra and Dao.
PHE&WS EE Tago Dulom, Deputy Ranger Tapak Mra, and the Kodukha division PHE EE accompanied the DC.