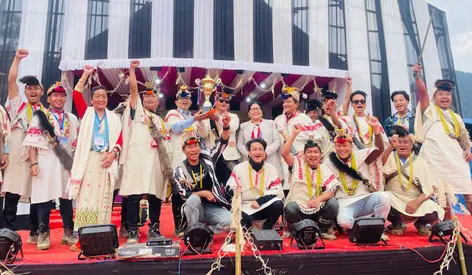 LANGRH, 27 Feb: The villagers of six gram panchayat segments of Nyobia circle in Kurung Kumey district celebrated the 2nd Nyobia Nyokum Yullo in a befitting manner here.
The celebration, which commenced on 18 February, featured various competitions, including football, marathon, volleyball, essay writing, extempore speech, Miss Nyokum pageant, mega dance, community feast, etc.
Home Minister and local MLA Bamang Felix, along with RWD Chief Engineer (Coordination) Nyai Dukam and Kurung Kumey SP Bomken Basar attended the final day of the celebration.
Taliha MLA Nyato Dukam also attended the 'extended celebration' on 22 February and declared the cultural event open.
Addressing the valedictory programme, Felix expressed appreciation for the organising committee led by Hiba Memak (chairperson) and Bamang Ramu (general secretary) "for organising the festival in an inclusive way, where every household actively participated."
The festival was celebrated with fund collected from voluntary donors in cash and kind, and was not sponsored by any individual.
Felix in his address also appealed to all to shun hunting activities across all six gram panchayat segments: Hiba-I, Hiba-II, Byasi, Langrh-Langro, Gida and Rowa, and called for "initiating activities to conserve and protect the forests and wildlife."
CE Dukam and SP Basar commended the people of Nyobia circle for including members of other tribes in the celebration, and said that "such inclusive mode of celebration should be promoted as it will lead to mutual respect of traditions among different tribes and create a sense of pan-Arunachal sentiment."
"The festival concluded with the handing-taking over of the festival celebration responsibility from the current chairperson to chairperson for the 3rd Nyobia Nyokum Yullo," a release from the home minister's PR cell informed.