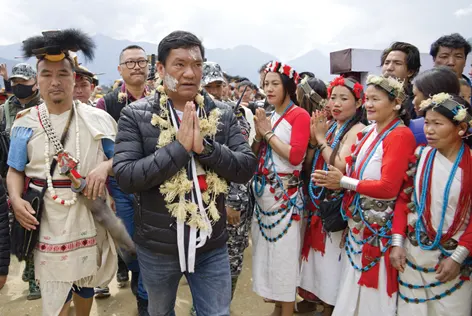 TALI, 27 Feb: The last unconnected administrative centre and the only unconnected assembly constituency of the state – Tali – has been connected by road at last.
Pema Khandu became the first chief minister to reach Tali, in Kra Daadi district, travelling by road last Saturday.
During his last visit to the area in 2017 by helicopter, Khandu had promised to the people that his next visit would be by road – a promise fulfilled on the occasion of Nyokum festival.
"I am proud to be a part of the historic and momentous occasion to finally witness Tali ADC headquarters get connected by road. Though established in 1957, Tali administrative headquarters never saw road connectivity. We worked on a mission to complete the approximately 51-km-long Yangte-Tali road at the earliest," he said while taking part in the 45th Nyokum Yullo celebration here on Sunday.
Khandu, after inspecting the under-construction road from Tali to Pip Sorang – a circle headquarters of the Tali ADC administrative centre – early in the morning, assured that the 50-km PMGSY road will be completed by the year-end.
"By the time you all celebrate the 46th Nyokum Yullo in Tali, Pip Sorang will be connected," he announced.
He reiterated his appeal to the people not to expect or demand land compensation.
"As overall development will follow road connectivity, if people will give land free of cost, the government is duty bound to construct roads wherever needed," he said.
Expressing concern over the delay in completion of the Tamen (Kamle district) to Tali road, work on which began in the late '60s, Khandu gave assurance that this road too will be completed by his government.
Acknowledging that "the stretch from the Kumey bridge point on the Yangte-Tali road requires attention as the current alignment is too much treacherous for driving," the CM directed the officials concerned to "complete the stretch at the earliest and redo the alignment wherever necessary."
Khandu further said that "the stretch of road from the Joram-Koloriang highway to Yangte is unfit for regular travel" and assured that the 15-km stretch will be redone at the earliest.
He urged the people of Tali area who have migrated to urban areas like Ziro and Itanagar to resettle in their own villages, citing the example of local MLA Jikke Tako, who has constructed his residence in Tali, even though he is settled in Itanagar.
"This is your birthplace. Your roots grow from this area. Even if you are settled elsewhere, stay connected to your roots. Have your home and hearth in Tali," he said.
On his way from Yangte to Tali last Saturday, Khandu dedicated the reconstructed steel arch bridge over the Kumey river to the people. The bridge had given away after construction under the impact of a falling rock, which had effectively disrupted road connectivity to Tali for at least a year.
The CM was accompanied by Home Minister Bamang Felix, Namsai MLA Chow Zignu Namchoom, Palin MLA Balo Raja, and others. (CM's PR Cell)