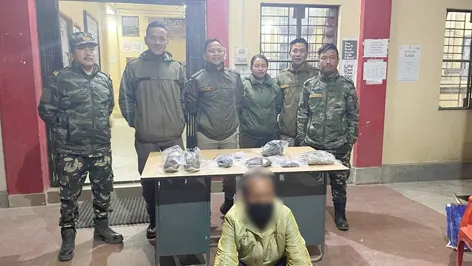 ZIRO, 31 Mar: One Nami Chattung, the alleged accused in the Tasso Grayu murder case, has been arrested.
"Chattung, the 70-year-old person from Hong village, was apprehended from Banderdewa on 30 March by a team of police led by SDPO Ojing Lego and investigation officer (IO) SI Hage Loder," Lower Subansiri SP Sachin Kumar Singhal said.
"Further investigation is underway," added Singhal.
The police also seized 'weapon of offence and other articles' from the accused.
The investigation was conducted under the supervision of the SP.
Grayu, the former editor of this daily was allegedly stabbed with a sharp weapon by an unknown person at Hari village in Lower Subansiri district on 22 March, at around 8:30 pm. He succumbed to the injuries on 24 March.
Based on an FIR filed by one Tasso Lajee of Hari village on 23 March and subsequent death of Grayu, the police registered a case (no.08/2023) u/s 302/341 of the IPC at Ziro police station.
 "During the course of investigation all the electronic evidences, such as CCTV footage, CD-R analysis, tower dump were done and all suspected accused were interrogated," the SP said.
He said that the youths of Hari-Bulla, Hong and public of Ziro and Banderdewa police extended cooperation to the investigating team.