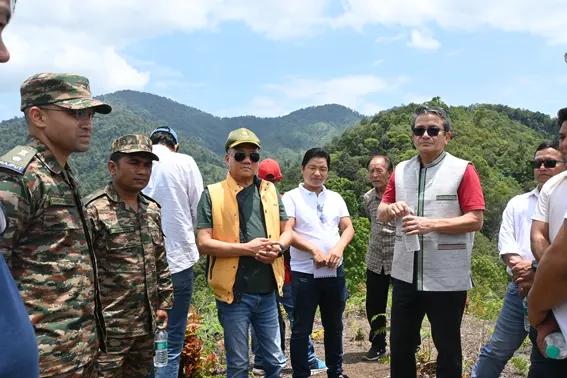 ITANAGAR, 24 May: A joint recce for establishment of 1962 War Memorial at Neelam Village under Deed circle of Lower Subansiri district was conducted by Hydro Power Development Corporation of Arunachal Pradesh Limited (HPDCAPL) and Indian Army 3 Corps, Likabali and other allied engineering wings of state government on Tuesday.
The technical team from HPDCAPL, which is the implementing agency of the project, headed by HPDCAPL chairman-cum-managing director Er Toko Onuj, had elaborate consultations with the representatives of Indian Army and Nyelam Welfare Society on planning and execution of the project in a synergistic manner. Maj. Gen. Jarken Gamlin is guiding the project.
Further, the progress of the preliminary works undertaken by Neelam Welfare Society for land acquisition, initial development of the memorial site and prompt action by the department of power was commended by all parties. Continuing deliberations, with consent of all sides involved, a final arrangement of components of the project was decided upon.
The project was dedicated by the Chief Minister of Arunachal Pradesh to Martyr Lt. Rfn Neelam Tebi of 5 Assam Rifles and other valiant souls who laid down their lives in protecting our frontier during the 1962 Chinese aggression.