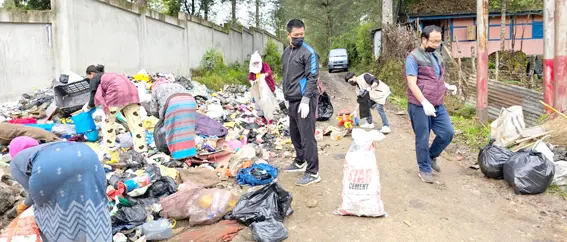 ZIRO, 25 May: The Lower Subansiri district administration has launched a drive on a war footing against garbage accumulating in the district headquarters for the past several months.
A team of the urban development & housing (UD&H) department, led by Assistant Engineer Chakpu Raju, cleared tonnes of garbage dumped at the entrance gate of the swachh destruction machine in Hong village recently. Garbage to fill around 20 vehicle beds had piled up at the site. The team, comprising 15 members, including safai karamcharis, sweepers, drivers and lifters, cleaned up the garbage and segregated them from early morning till late afternoon.
"After the primary and secondary segregations, garbage have been placed separately and scrap dealers can now come and pick up the dry garbage, including metal and plastic wastes, while wet garbage have been placed in compost bins," informed Raju, and appealed to the residents of Hong village to "do primary segregation of garbage at their homes prior to dumping."
He informed that the UD&H department is "on the job to bring the defunct swachh destruction machine to use, which would be of great help in mitigating the garbage problem to an extent."
The AE further informed that "an RRR (reduce, reuse and recycle) centre is coming up at the UD&H complex on a temporary basis, similar to the ones in Deomali (Tirap) and other places in the state." The RRR centre was cleaned in the morning to be pressed into service.
The RRR centre is a one-stop solution for citizens, institutions, commercial enterprises, etc, to deposit or donate unused or used plastic items, clothes, footwear, books and toys. Once collected, these items would be handed over to different stakeholders to be refurbished or reused by converting them into new products.
Commending the UD&H team, Deputy Commissioner Bamin Nime said that "the district administration is aware of the problems and concerns of the citizens of the district in respect of garbage problem," and assured to "leave no stone unturned in mitigating the chronic problem sooner than later."
"Garbage management in our district is doable and it requires only willpower and dignity of labour," he said, adding that "we will explore every possible solution, including replicating an RRR centre from other place, or any other solution which would augment in mitigating the problem."
Nime further informed that the RRR centre would be funded from the DC's untied fund, "instead of waiting for government funds, which is tedious and time-taking."
He said that the administration would organise another secondary garbage segregation programme in Rachi, towards Kardo, on Saturday. (DIPRO)