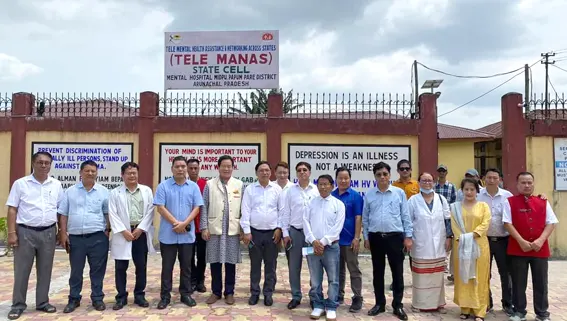 MIDPU, 25 May: "Mental health issues are serious and need immediate and effective psychological and medical interventions," Health Minister Alo Libang said after inaugurating the Tele Mental Health Assistance & Networking Across States (Tele-MANAS) cell at the mental hospital here in Papum Pare district on Wednesday.
The cell will provide counselling to people going through mental health issues like depression or addiction by means of telephone and video calls.
"There has been a massive surge in mental health cases after the Covid-19 waves. Tele-MANAS aspires to provide 24/7 online counselling with regard to any mental health issue. It is being manned by a counsellor, a clinical psychologist, and a psychiatrist, and the toll-free number 14416 has been made functional," the minister informed.
Calling for protecting the hospital compound from encroachment, he gave assurance that he would "look into the approval of a protection boundary wall for the hospital."
The 30-bedded hospital currently has nine indoor patients. On average, it provides treatment to eight to nine outdoor patients daily.
Among others, MLA Tana Hali Tara and officials of the health department were present at the inauguration. (DIPRO)