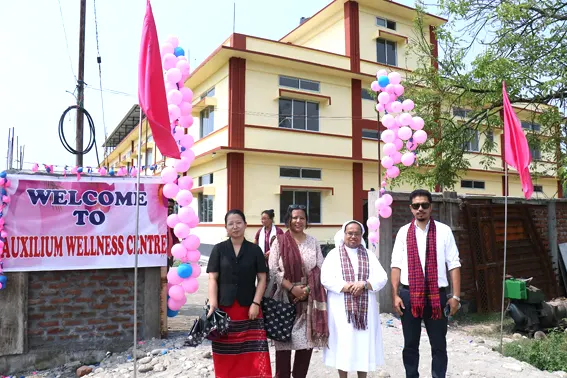 NAMPHAI, 25 May: The Miao diocese opened Auxilium Wellness Centre – a deaddiction facility for girls and women – in Namphai-II in Changlang district on 24 May.
"Drug menace is a big problem across Arunachal Pradesh, and it feeds on the future prospects of the nation," Miao diocese bishop George Pallipparambil said, and expressed hope that "this facility for girls will not only bring people out of addiction but also contribute to the overall health of the people all over the state."
According to the latest national survey, Namsai, Lohit, Dibang Valley, Upper Siang, Anjaw, Tirap and West Kameng districts are said to be among the 272 "worst drug-abuse districts in the country," the diocese informed in a release.
Speaking at the function, Miao ADC Ibom Tao said that "drug and opium abuse is destroying our society and this centre is a need of the hour because there are so many addicted people here. Merely arresting them and putting them behind bars is not a solution. This wellness centre will be a great blessing and an asset for the people."
The centre, which is equipped with all the modern facilities, has the capacity to treat 45 inpatients for deaddiction. It also has a daycare facility for alternative therapy, sujok therapy, magnet therapy, acupressure therapy, and full-body wellness massage therapy for both men and women.
Commending the church, Tao said: "Catholic church, wherever it has reached, has contributed to the people with education, social service and healthcare. This centre is also an example of how the church constantly contributes to society-building. The public and the district administration should help, support and cooperate to ensure smooth functioning of this facility."
The centre also has a dispensary to cater to the medical needs of the people of neighbouring villages, especially pregnant women and children.
Sister Alphonsa Kurisingl, the provincial superior of the Daughters of Mary Help of Christians, who will run the facility, said, "With this centre we commit ourselves to the healing ministry to provide the best care to everyone. Our holistic approach involves working with mind, body and spirit for a complete change in behaviour and attitude that puts patients on the path to a healthy and worthwhile life."
Public leader Nongri Taidong said that the centre would "bring down crimes related to drug abuse in our district and beyond."
"We hope that in the coming days the district administration grants necessary permission to make the centre open to men also," he said.
Established to mark the centenary year of the FMAs' presence in the Northeast, the Auxilium Wellness Centre will be headed by Sister Sudem Basumatary, who is a trained professional in dealing with addiction, counselling, and alternative therapy, the release stated.