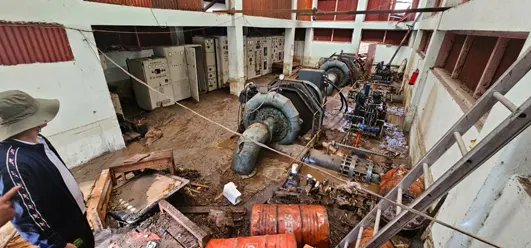 MECHUKHA, 16 Sep: A sudden cloudburst in Lhallung village near here in Shi-Yomi district in the wee hours of Saturday reportedly triggered a devastating flood, causing significant damages in the area.
At least two hydel stations have been severely affected, disrupting the electricity supply to Mechukha township and its adjoining areas.
The floodwater also ravaged agricultural fields, standing crops, houses, water supply, and livestock. However, no loss of human life was reported.
Expressing serious concern over the incident, Legislative Assembly Speaker and local MLA PD Sona instructed the district administration to take immediate action and provide all possible help to the affected families, and to immediately assess the extent of the damages.
Further, Sona directed the power and the public health engineering departments to initiate the restoration process as soon as possible.
Sona also spoke with the chief minister and the deputy chief minister over the phone, urgently seeking their assistance in addressing the aftermath of the incident.
The hydel stations located in Lhallung village serve as the lifeline of electricity supply to Mechukha and its adjoining areas. (Speaker's PR Cell)