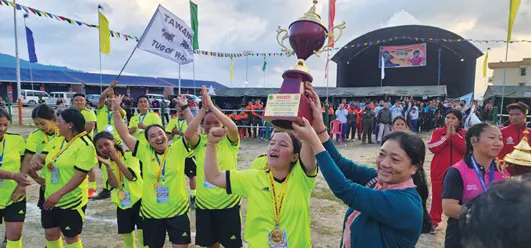 TAWANG, 16 Sep: Host Tawang won the overall championship title of the second state-level Jambey Tashi Tug of War Championship, which concluded here on Saturday.
The host team won the women's 500 kg and the mixed 580 kg events, while Lower Subansiri team lifted the men's 640 kg trophy, defeating Tawang in the final.
Tawang was also adjudged the 'best disciplined team'.
Kra Daadi came second in the mixed 580 kg event and won the silver medal. It also won the bronze medal in the women's 500 kg event.
Itanagar Capital Region won the silver medal in the women's 500 kg event.
Shi-Yomi won the bronze medals in both men's 640 kg and mixed 580 kg events.
Attending the closing ceremony, MLA Nyamar Karbak lauded the Arunachal Tug of War Association (ATWA) for promoting the sport, which, he said, has very close connection with tribal games.
He informed about the sports policy of the state government and job reservation and other attractive incentives to encourage youths in sports.
MLA Hayeng Mangfi remembered late Jambey Tashi as an inspiration for the younger generation of the state. "He was not an ordinary citizen but an institution in himself," he said.
MLAs Tsering Lhamu and Tsering Tashi, Deputy Commissioner Kanki Darang, Tawang Brigade Commander Brig VS Rajput, MMT secretary-general Namgey Tsering, and public leaders also witnessed the final matches.
The championship had been inaugurated by MLA Phurpa Tsering on 14 September, in the presence of MLA Tsering Lhamu and Bamboo Research & Development Agency Chairman Tungri Effa.
Meanwhile, ATWA president Nili Likha Kamin informed that the National Tug of War Championship will be held in Tawang from 29 Septembers, and that 14 states have so far confirmed their participation.
The finals of the national championship will be held on 1 October, Kamin said. (DIPRO)