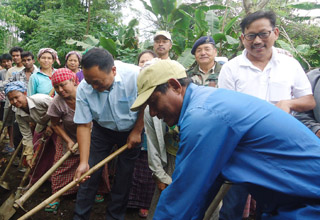 Correspondent
RUKSIN, Oct 30: A road development project at Oyan village was inaugurated by Member of Parliament (MP) Ninong Ering on Monday.
The road project worth Rs 10 lakh is funded by the MP from his local area development fund.
Roads are the backbone, which facilitate development and growth of any area, the MP said and assured to grant more funds for development of road connectivity in villages located in boundary area.
He urged the villagers to maintain a healthy relationship with the people of neighboring Assam residing in boundary areas.
Later, the MP joined the villagers in earth-filling work.
Oyan village falls under Pasighat-West Constituency. The rural areas of the constituency are craving for infrastructural development and other basic amenities.