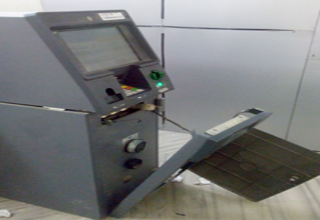 Staff Reporter
ITANAGAR, Oct 31: Automated Teller Machines (ATM) of the State Bank of India across the Capital Complex have remained out of order over a couple of days due to acts of vandalism on a total of 18 SBI ATMs in the twin Capital Complex, including Nirjuli within this month, informed the SBI Regional Office.
'Since October 9 to 28, a total of 18 SBI ATMs have been vandalized at the Capital Complex, including the one near SBI e-corner, Secretariat, Mowb-II, Zero point, Chimpu, Ganga Lake, Chandranagar, Dera Natung Government College, Legi Complex, etc. At Naharlagun also, three ATMs were vandalized in a single day on October 18 last', the SBI Regional office authorities informed this daily on Tuesday.
While denying any insufficiency of cash causing temporary closure of the ATMs, the authorities assured that only the damaged ones were inoperative, while other ATMs are functioning properly.
Of the total 70 ATMs operational in the Capital Complex, now about 17 are currently inoperative following damage by miscreants.
According to the SBI authorities, even the ATM at the state Secretariat was not spared.
'Damaging an ATM inside the premises of a supposedly secure area like the Secretariat puts a question mark on the state Capital's law and order', the SBI authorities rued and informed that they have lodged an FIR with the police in each case but no arrests were made.
Surprisingly, an IRBN jawan was also found involved in an ATM vandalism at Zero Point in Itanagar recently.
'We have presently lodged a complaint with the Capital Complex Superintendent of Police and Deputy Commissioner regarding the issue and for now, people have to bear with the inconvenience as the ATM repair work would take time', authorities stated and informed that all SBI ATMs would from now on remain open till 8 PM only for security reasons.