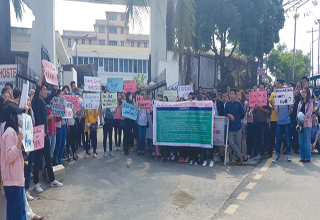 ITANAGAR, Apr 19: The All Arunachal Horticulture Students' Union (AAHSU) boycotted the examination for the posts of horticulture development officers (HDO) and staged protests outside the Udyan Bhavan and the Arunachal Pradesh Public Service Commission (APPSC) here on Thursday, demanding creation of HDO posts in each block of the state.
Reportedly, only one student came to appear for the first paper at the APPSC centre, but was convinced otherwise and sent back home.
A total of 193 candidates had applied for six vacant posts of HDO in the horticulture department, the examination for which was scheduled for 19 and 20 April.
AAHSU president Likha Kamin claimed that the horticulture department did not follow the recruitment rule of 80:20 to fill up the posts.
"There are 10 vacant posts of HDO. On the basis of 80:20, eight people should be recruited and two people should be promoted to the post of HDO. But the department has kept only six posts for recruitment and four for promotion," he said.
The students also claimed that the department has not created new HDO posts since 1987.
"There are currently 86 HDOs in the state, while the requirement is for around 150-200 HDOs. The 86 posts are being filled up since 1987 due to reasons such as retirement, voluntary retirement, death, etc, but no new posts are being created," said Kamin.
Other demands of the union include appointment of a full-time director for the department; adding the vacant posts of three HDOs who retired in August 2017 to the recently advertised posts; and looking into the alleged promotion of a field man to the post of horticulture field assistant without the candidate having fulfilled professional requirements.
Noting that recruitment is held only when posts fall vacant due to promotion or death, the union also demanded that the upper age limit for aspiring candidates be raised to 40 years.
An official from the horticulture department later clarified that the exam will be held "at 100 percent ratio" solely for recruitment and not for promotion.
The official also informed that the three vacancies from 2017 would be added to the current vacancies, increasing the total of HDO posts to nine.
Meanwhile, the APPSC said it was only given the responsibility of conducting the examination and did not have any role in creation of posts by the department.