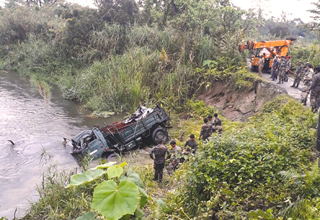 [ Karyir Riba ]
ROING, Apr 21: Two Army jawans were killed when a vehicle of the Madras Regiment fell into the Kundil river while crossing the bridge near Iduli village in Lower Dibang Valley district on early Sunday morning.
Another jawan, who went missing after the accident, is presumed dead.
According to reports, the vehicle, with 11 jawans on board, was engaged in a search operation in Kundil Reserve Forest in the general area of Chappa Khowa on the Assam-Arunachal Pradesh border.
Reportedly, the approach road on the other side of the bridge was very narrow and wasn't strong enough to hold the weight of the truck. Prior to the accident, two light motor vehicles had crossed the bridge.
According to a police source, there was no signboard near the bridge cautioning motorists about the eroded approach road.
Eight jawans and officers who sustained minor injuries were admitted in the Chapakowa CHC in nearby Assam. The bodies of the two jawans have been retrieved, while search is underway for the missing jawan.
Reportedly, most of the arms and ammunition and other equipments have been recovered from the river, while some have been misplaced during the accident.
The truck has also been recovered. However, the recovery crane reportedly toppled over in the process of dragging out the truck.
A team from the Roing police station, led by SP Sanjay Kumar Sain and OC Paul, along with personnel from the ITBP, the Army and the NDRF from Tezu and Jairampur were engaged in the rescue mission.
A case has been registered at the Roing PS and SI M Koyu has been appointed as the investigating officer.