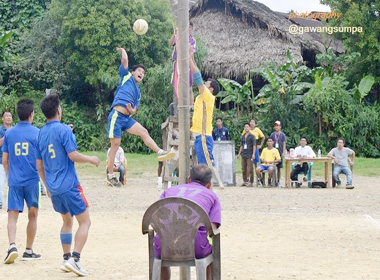 KHONSA, Jun 11: The three-day Walang Aboh Memorial Tournament concluded at Thinsa village here on Sunday, in which badminton, volleyball and carrom board competitions were held.
The badminton singles title in men's senior category was won by Merang Kakho after beating Wanghin Kakho.
The pair of Phiwang Afi and Singat Anyiam beat the duo of Vijay Lamma and Longsom Sumnyan to win the boys' junior doubles title.
The doubles title in men's senior category was won by the pair of Thokwang Kongkang and Wangkhon Wangsa. They defeated Lugan Aphi and Aboni Phukan in the final.
Merang Kakho was adjudged the best badminton player of the tournament.
Lazu team won the men's senior volleyball competition, defeating the Thinsa Volleyball team.
Kijen Nyamtey was adjudged best volleyball player.
In carrom, Matlam Aboh became the champion.
The prizes to the winners were given away by EAC Hakresha Kri and other dignitaries.
Teams from Lazu, Sanliam, Kheti and Thinsa participated in the tournament, which was organized under the aegis of the Aboh Brothers and Thinsa Youth Association at the Thinsa village playground from 8 June.
Late Walang Aboh was adjudged the best goalkeeper in the district level CM's Trophy in 2016 and the Thansen Wangchadong Memorial Football Trophy, 2015.
Earlier, EAC Kri appealed to the youths of Tirap to abstain from taking opium and consuming alcohol and play sports instead, to stay physically fit and healthy.
Informing the youths about the job reservation for meritorious sportspersons in all government departments, he advised them to grab the opportunity by excelling in their chosen sports.
He further encouraged the youths to participate in games and sports activities without thinking about the results, stating that winning and losing are part and parcel of any game.
Kri paid tributes to the portrait of Walang Aboh.
Agriculture Deputy Director Pangnye Khoisia also expressed serious concern over the growing opium addiction among the educated youths of Tirap.
He appealed to the farming community to adopt alternative cultivation by avoiding jhum or shifting cultivation, for which the agriculture, horticulture, veterinary and fishery departments provide all necessary help and assistance.
LWAMT chief advisor Lugan Aphi also spoke.
Among others, former minister Thajam Aboh, District Sports Officer Noah Mongku, the chief and GBs of Thinsa, and public leaders attended the closing function.