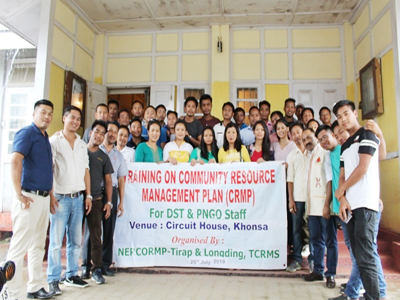 KHONSA, Jul 30: The NERCORMP Tirap Community Resource Management Society conducted training on 'Concept and roles of NaRMG cluster association and SHG federation' for its functionaries in Tirap district at the Bank Colony office here on Monday.
Institutional development organizer of the West Garo Hills District NERCORMP, Sitaram Prasad Sah, imparted training to nearly 80 representatives of SHGs and NaRMGs, along with NERCORMP Tirap officers.
The training programme sought to explain the concept of the federation and cluster association and its implementation module in the project.
Earlier, Sah imparted training to partner NGO functionaries of NERCORMP Tirap in Khonsa and Thinsa village, on the concept of PRA, community resource management plan, wealth ranking, NaRMG cluster association, SHG federation and NaRMG grading, besides conducting demonstrations on the field.
Altogether 200 members of SHGs and NaRMGs participated in the theory and practical demonstrations held during the programme.
A similar programme will be conducted for the functionaries of NaRMG cluster association and SHG federation in Longding district on 31 July.