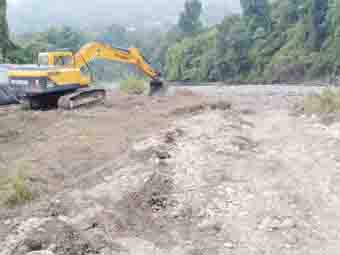 [Junroi Mamai]
CHANGLANG, Nov 22: Unregulated extraction of minor minerals such as boulders and sand shingles from the Tirap river here, being carried out by contractors and proprietors of stone crushers in the name of developmental activities, is causing serious environmental issues.
It has also triggered social problems, particularly for those who are dependent on the river.
Over the years, excessive mining has destroyed the natural habitat of aquatic lives and has left the river barren of fishes. The river, which once was a hotspot for anglers and rafters, is now devoid of tourists. Along with the fishes, the entire biodiversity of the area is affected by the excavation of natural resources using heavy machineries.
Furthermore, the people of seven to eight villages downstream of the river's basin have their wet rice cultivation attached to the river that brings rich alluvial soil during the monsoon season, which is crucial to sustain cultivation. However, due to continuous mining upstream, the river is slowly losing its capacity to retain the top soil because its bed and its banks have become porous.
Every year during winter, the contractors and owners of stone quarries get transportation permits from the district administration and carry out extraction of stone and sand shingles. Despite the fact that there are no notified stone quarries and stone crushers in Changlang town, extraction of stones from the river has slowly turned into a thriving business in the area.
For a very long time, the villagers have been opposing the large-scale mining. On 9 May this year, during a meeting with the contractors at the deputy commissioner's office chamber, the gaon burahs of Chokdok, Jungmaisu and Rangkatu villages appealed to the administration to check the unregulated mining and limit the hours of the extraction activities being carried out per day. But the mining activities continued, and only stopped recently, following repeated public complaints to the administration.
Speaking to this daily, Changlang DC RK Sharma informed that all mining activities in the Tirap river have been stopped since the 16th of this month. He said the order was passed following strong complaints from the locals.
The administration took note of the issue very late, and only recently issued the order to halt mining activities in the river. But questions remain: for how long will the mining activities be stopped, and what measures will the administration take to check such blatant destruction of rivers?
Despite the Supreme Court ruling on the National Green Tribunal, especially relating to river water pollution and extraction of minor minerals, neither the state government nor the district administrations have taken the issue in letter and spirit.