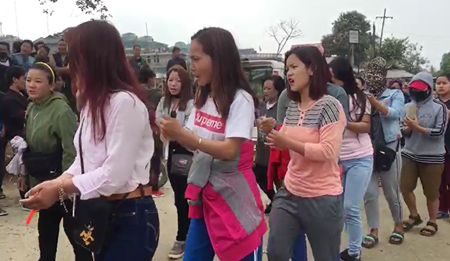 ITANAGAR, Feb 24: Late Risso Tari, who died in police firing on Friday, was laid to rest at the tennis court near IG Park here on Sunday. A large number of people came out to pay their last respects to the departed soul.
On Sunday morning, scores of mourners, both young and old, took out a candlelight march from the IG Park tennis court to Bank Tinali to pay homage to Tari.
Meanwhile, the Arunachal Christian Forum (ACF) and the Arunachal Pradesh Women's Welfare Society (APWWS) have appealed for peace in the state capital.
In a release, the ACF expressed sadness over the death of three young lives in the anti-PRC protests.
"We don't want the death of any more innocent youths and appeal to all to maintain peace. The state capital cannot remain tense like this. It will send out the wrong message to the outside world," the ACF said.
It urged all sides to maintain communal harmony in this difficult time. "We are all Arunachalees, and we should stand united," it added.
The APWWS in a statement said it was "deeply pained by the death of our children in the ongoing protest against the issue of PRC," and offered its deepest condolences to the bereaved families.
"As a mother NGO, we fervently appeal to all for maintaining peace. We request the government to respect the sentiments of indigenous people, and further appeal to the government and other society to come out to find a permanent solution to this ongoing crisis," the APWWS said.
Former AAPSU president and chairman of Green Arunachal Foundation, Takam Tatung, has also urged all sides to maintain peace in the capital complex.
In a statement, Tatung appealed to all to maintain restraint.
"We are going through a difficult time, but we should all work together to restore peace in the state capital," said Tatung.
He also called on the state government to take measures to restore normalcy.
"The state government should take care of those who were injured in police firing, and properly compensate them, and also the families of those killed," he said.
Further, Tatung asked MoS for Home Kiren Rijiju not to remain a mute spectator and perform his duty as an elected MP of the state by taking measures to bring peace in the state.