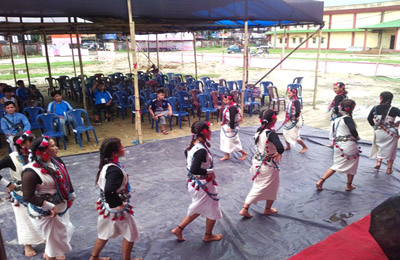 ITANAGAR, May 15: The Umang Festival, 2019 organized by Arunachal Pradesh Paralympics Association (APPA) began at Nyikum Niya ground, Nirjuli in Papum Pare district on Wednesday.
Umang Festival is an initiative of the Ministry of Culture to bring together the differently abled at one platform and provide them an opportunity to showcase their talents in different fields.
Itanagar EAC Hengo Basar, who declared the week-long festival open, said that the government has launched several schemes for the welfare of the Divyangjan, so that they can live life with full dignity.
He appealed to all stakeholders to work together in overcoming the challenges faced.
Informing that there are few pairs of wheel chairs still available in his office, he advised APPA officials to collect the wheel chairs and provide them to the needy ones.
As per the 2011 census, the total number of person living with disability in Arunachal Pradesh is 27,475. He informed that the population of the differently abled persons in the state has decreased by around 6000 during the period from 2001 to 2011. He said that the figure might decrease further, when the next census is conducted.
During the week-long festival, various cultural, literary and games and sports competitions will be conducted.
Meanwhile, participants from various districts started to arrive here.