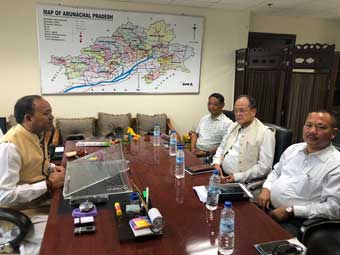 ITANAGAR, Jun 6: Water Resources Development (WRD) Minister Mama Natung on Thursday officially took charge of the department, and convened a review meeting with the department's officials.
Addressing the meeting, which was attended by WRD Secretary Geyum Padu, Western Zone Chief Engineer Likar Angu and Eastern Zone Chief Engineer Modak Ngomdir, the minister said the department's field officers should prepare project reports "after practically conducting actual field visits and surveys."
Noting that several of the government's policies are not being implemented on the ground "due to the lackadaisical attitude of the field officers and the implementing agency," Natung urged the officers to work with the right perspective.
"The performance of the officers will be the only criterion for them to stay at their places of posting," he said.
"No undue favour should be sought by the officers through means of financial offers or political recommendation for transfer and posting. Only performance-based transfer and posting will be done," Natung said.
Padu in his address called for "transparency and professionalism among the officers." He also urged the field officers to work to strengthen the department's database.
The western zone CE made a PowerPoint presentation on the manpower, financial status, ongoing projects, etc, of the department. He requested the minister to "take up the matter of deposit works as part of business allocation with the authority."
In response, the minister assured to put up the proposal in the cabinet.