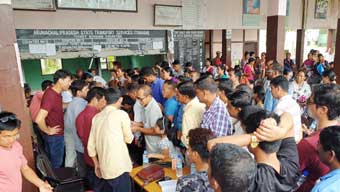 ITANAGAR, Jun 30: The Arunachal Pradesh State Transport Service's (APSTS) Itanagar Station Superintendent (SS) Tuter Dolum on Saturday urged parents of schoolchildren using the APST's bus service to guide and take good care of their wards.
During a meeting with parents of students of Kendriya Vidyalaya I and II who use APST bus service, Dolum said it is necessary that there is coordination between the parents and the APSTS, and that parents offer suggestions from time to time.
"Parents can guide their children to maintain discipline and follow the dos and don'ts in the school buses. APST buses are properties of the public, and it is the duty of every Arunachalee to keep them clean and hygienic," the SS said.
He gave assurance that the department would provide the best possible service to the students, and sought cooperation from the parents, school authorities and students in this regard.
Dulom heard out various suggestions and complaints offered by the parents.
"If bus drivers or any other assistants fail to properly perform their duties, it should be brought to the notice of the authorities. We will initiate action against those failing to perform their duties," he said.
More than 300 parents participated in the meeting.