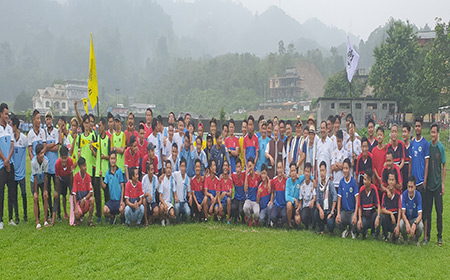 JULY, Jul 14: The 2nd edition of the Jully Super 16 Championship began at the Don Bosco Higher Secondary School football ground here on Sunday with Longotia FC beating Champion FC by 3-2 goals.
Organized by the Ajing Arum Society, 14 teams from the capital complex are participating in the competition, the final of which will be played on 24 July at the same venue.
In a bid to spread awareness about drug abuse and tobacco, the championship is sponsored by the Arunachal Pradesh State AIDS Control Society, the Tobacco Control Society and others with the motto 'Say yes to life and no to tobacco'.
Attending the inaugural function, Sagalee MLA Nabam Tuki advised the players to "stay away from drugs, alcohol and tobacco to be successful in life." He also commended the organisers' effort to spread awareness through sports events.
Tuki highlighted how sports could ease the unemployment issue and also generate revenue.
"Many can find their vocation in sports and make a living from it. But you should be free from tobacco and drugs and work hard without giving up," he added.