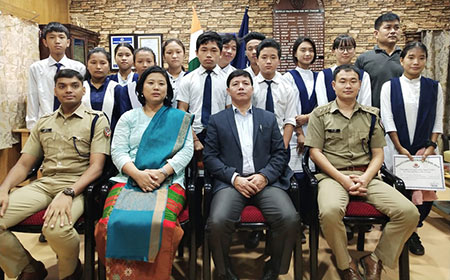 ITANAGAR, Oct 29: The police department here organised a 'Know your own police' programme at the capital SP's office on Tuesday with an award distribution ceremony for the students who had won the essay competition held as part of the Police Commemoration Day on 17 October.
National Commission for Protection of Child Rights Member, Rosy Taba Gongo, distributed the certificates and prizes to the students who stood first, second and third places in the essay competition on the topic, 'Role of the police in the society'.
In the junior level, Nido Yania won the first prize, while Mogam Noshi and Takar Dulom were awarded the second and third prize, respectively.
In the senior level, Tadar Chum Chum took home the first prize. Langpu Dadu and Kensum Pakam came in at second and third place, respectively.
Certificates were also given to those who ranked up to the 10th place.
Students from the Polo Colony GHSS and the Niti Vihar GMS visited the Naharlagun and Itanagar police stations to see the various branches and to know the police personnel and their duties.