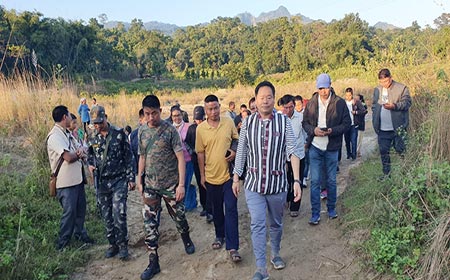 BALIJAN, Dec 3: Doimukh MLA Tana Hali on Tuesday inspected the defunct road connecting Rakap (Jote ) in Sangdupota circle to Balijan under Papum Pare district. The road popularly known as NEC road has been lying defunct for last many years owing to lack of maintenance.
Hali along with a team comprising of several officials trekked on foot from Rakap to Balijan covering distance of 40 KM. The MLA said with the revival of NEC road, it will boost the economic activity of Tarasso, Balijan and Sangdupota circles.
After reaching Balijan, he also visited Gai village under Balijan circle and assured to look into the grievances placed by the locales.
Speaking on the occasion, Hali said his topmost priority to improve the road connectivity in 14 Doimukh Assembly constituency. Further he also informed that Chief Minister Pema Khandu has approved some major road projects for Doimukh constituency in the recent cabinet committee on infrastructure meeting.
The MLA was accompanied by team of officials which included Papum Pare D C Pige Ligu, ADC Balijan Tasso Gambo, EE PWD, Doimukh Division Nabam Tado and officers from RWD Poma division.