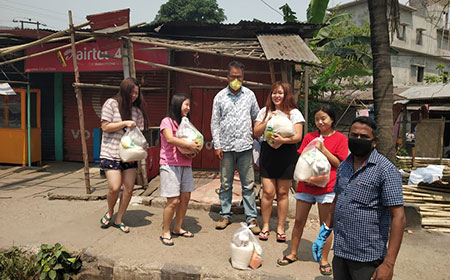 Staff Reporter
ITANAGAR, Apr 1: The Kamrup (metro) district administration has reached out to the stranded Arunachalee students in Guwahati, Assam, by distributing essential commodities among them.
The items were distributed through local NGOs and the Arunachal government's deputy resident commissioner (DRC) in Guwahati.
The rations, comprising 5 kgs of rice, half a litre of mustard oil, 1 kg of salt, and 1 kg of potatoes, were distributed among the students, including those who are residing in rented accommodations.
"Distribution of essential items started door-to-door from Tuesday and ended this (Wednesday) evening," informed MM Deka, who coordinated the distribution from the DRC office.
"We have identified altogether 223 Arunachalee students residing in Guwahati town. We also distributed to some of the students whose names were not listed," Deka said.
The Assam government decided to distribute the essential items as some of the colonies in the city are being sealed off from Wednesday. The Assam government has geared up its healthcare activities after five Covid-19 positive cases were detected in the state.
Chief Minister Pema Khandu has lauded the Kamrup administration for its noble gesture, and expressed appreciation for the Assam government for taking care of the Arunachalee students.