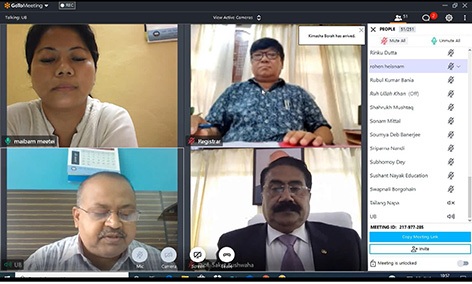 RONO HILLS, Jun 18: A two-day webinar on 'Recent trends in artificial intelligence (AI)' got underway at Rajiv Gandhi University here on Thursday. It is being conducted by the university's electronic & communication and computer science & engineering department.
Addressing the inaugural programme, RGU Vice Chancellor, Prof Saket Kushwaha said, "In this Covid-19 pandemic situation, AI can be integrated with existing technologies to improve the teaching-learning experience in the educational system."
AI-based machines could be used to treat coronavirus patients "as it would involve very less direct intervention of frontline workers and they would be protected from infection," he said.
Pro-VC, Prof A Mitra spoke on how AI can be used to make India "one of the best technological countries," while Registrar, Prof Tomo Riba said that AI "has brought revolutionary changes in technology and the way we use technology."
Computer Science & Engineering Head, Prof Utpal Bhattacharjee said "AI is one of the most rapidly growing technologies in science," and added that "the present state of technologies needs to be upgraded, and it is possible by using AI."
NIT-Manipur Associate Professor, Dr Aheibam Dinamani Singh presented an overview of AI and its applications in different fields of technology.
"AI is breaking frontiers in the fields of medicine and agriculture," Dr Singh said, and stressed on using AI technology "as a practicable option to fight the current Covid-19 pandemic."
The first day of the webinar was attended by more than 100 participants from various universities and colleges.