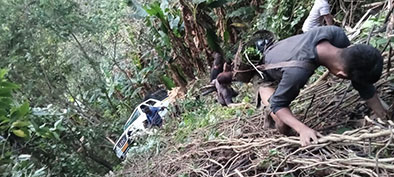 Staff Reporter
LONGDING, 5 May: A young man identified as Gangngun Gangsa (19) has died while eight others suffered grievous injuries on Tuesday when the Tata Mobile pickup truck they were traveling in fell into a gorge.
According to Longding Deputy Superintendent of Police B Tangjang, the pickup truck bearing registration no. AS-01MC-0241, driven by one Soidul Alam was proceeding to Wakka from Longding. On the way, around 15 passengers coming from a paddy field got into the vehicle near Kala Pahar. Later, about 8 km ahead of reaching Wakka, the vehicle met with an accident and fell down into a gorge around 100 meters away from the main road.
 "Gangngun Gangsa died at the spot and eight others comprising four males and four females sustained grievous injuries. Accordingly, they have been evacuated to Dibrugarh, Assam for further treatment," the DSP added.
The body has been handed over to relatives after completing the inquest and post mortem.
The driver has also been arrested and is currently remanded into judicial custody.
Meanwhile, a case under Wakka PS case no. 5/21 US 279/304 (A) has been registered and an investigation launched.