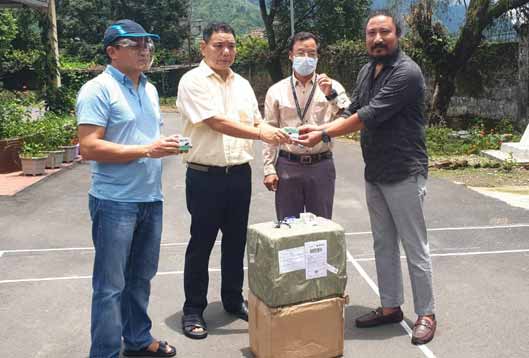 ITANAGAR, 17 Jun: The North East Entrepreneur Alliance (NEEA) donated 2,000 oximeters to the health department here on Thursday.
Health Minister Alo Libang received the donated items from Bobby Hano, director of the Ziro Festival of Music and a member of the NEEA.
 Briefing the media, Hano said that the oximeters were procured through a crowdfunding initiative by the members of the alliance. "We have covered Sikkim, Nagaland and Arunachal. Soon we are going to arrange oximeters for two more states of the NE region. This is our small initiative to support the government in the battle against Covid-19," said Hano.
Libang thanked the NEEA for donating the oximeters and said that the department will distribute them equally to the districts where there is urgent need of oximeters.
TRIHMS Director Dr Moji Jini and MLA Nyamar Karbak were also present on the occasion.
DIPRO reports: Union MoS for Youth Affairs & Sports Kiren Rijiju provided 200 pulse oximeters to Kamle district.
The devices were handed over to the Kamle DMO by Rijiju's additional PS Komjum Riba on Thursday.
Kamle DC Adong Pertin thanked Rijiju for providing the medical devices for the welfare of people of the district.