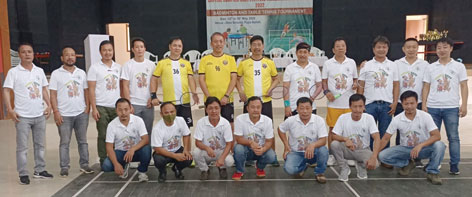 Staff Reporter
PAPU NALLAH, 12 May: The badminton and table tennis competitions being organised as part of the Dree festival celebration by the Capital Complex Dree Festival Celebration Committee (CCDFCC) were inaugurated at the Dree ground here on Thursday by PWD (Highway) Chief Engineer S Sumnyan.
CCDFCC chairman Nani Tath and PWD CE Dani Gambo were also present on the occasion.
Tath informed that, besides badminton and table tennis, the committee will also organise volleyball, football, marathon, and other sporting activities.
"After a gap of two years, Dree is being celebrated in a big way. Due to the pandemic, we could not properly celebrate Dree for the past two years," he said.
He informed that this year the theme of the celebration is 'Zero drug Ziro', and urged members of the Apatani community to "come out in large numbers to participate in the festival."
The badminton and table tennis competitions are being organised in the newly constructed multipurpose hall at the Dree ground. Sumnyan praised the celebration committee for constructing such good infrastructure.
"Arunachal has huge potential in the field of sports. More sports infrastructures should be constructed to tap the potential. The government alone cannot construct infrastructures. The civil society also will have to contribute," Sumnyan said in his address.
He also urged parents to encourage their children to play sports, saying that "sports bring discipline and the children learn to work in a team."
The CE lauded the celebration committee "for coming up with a beautiful theme of 'Zero drugs Ziro'. "This is a very good message. Today, many youngsters are taking the wrong path. Only keeping them engaged in sports and physical activities will keep them away from it," he said.
An exhibition badminton match was played between the committee members and the dignitaries. The official tournaments started later.
A large number of sports enthusiasts, both males and females, are participating in the competitions.