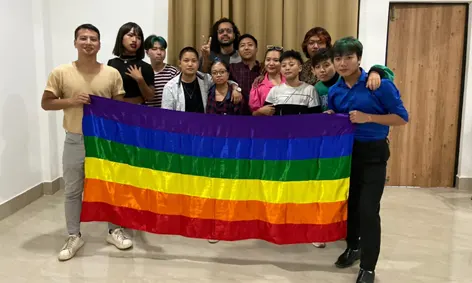 ITANAGAR, 5 Jun: 'AP Queer Station', which is the first LGBTQ+ support group in Arunachal Pradesh, conducted its second 'queer community meet' on Saturday.
The meet-up included awareness sessions on the topic, 'Mental health and sexual wellbeing of queer persons'.
The event unfolded with a welcome speech by Sawang Wangchha, the founder of the AP Queer Station, and "an introductory session by all the members," according to a release.
A total of about 20 LGBTQ+ members turned up for the event, along with a few heterosexual allies.
The first technical session was on mental health, which was conducted by Yuma Narah (she/her), psychologist and joint secretary of the AAPPA's IPR & literature unit. It was followed by a session on 'Sexual wellbeing of queer persons' by Shivalal Gautam (he/him), queer activist and co-founder of Xomonnoy, based in Guwahati, Assam.
"The meet was aimed at making everyone feel welcome and included, which was seen to be achieved as per the feedback received, boosting the morale of everyone involved," stated the release.
The organisers said that they would organise more such community meets in addition to other activities, such as awareness and sensitisation programmes.