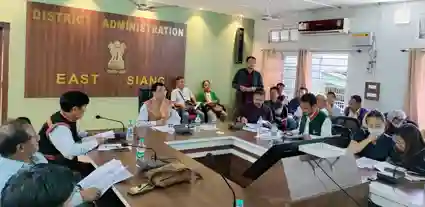 PASIGHAT, 16 Jun: Matters related to the finalisation and approval of the panchayat development plans (GPDP and ZPDP) of 116 gram panchayats and 14 zilla parishads of East Siang district for the 2022-23 financial year were discussed during a meeting of the District Planning Committee (DPC) chaired by DC Tayi Taggu here on Wednesday.
The DC stressed on the need to prepare "evidence-based, holistic and inclusive plans." He also called for "conducting gram sabhas regularly with the frontline functionaries of all the line departments to facilitate the convergence of schemes."
ZPC Olen Rome emphasised the importance of the Gram Panchayat Development Plan (GPDP) and the Zilla Parishad Development Plan (ZPDP), while DPDO Tajing Padung elaborated the objectives of the two plans.
DNO (PFMS) Onyok Sitang presented the proposed schemes and read out the exercises carried out by the panchayati raj department since the launch of the 'people's plan campaign' on 2 October, 2021.
He suggested to the members to scrutinise the proposals and make rectification, if any, before final approval by the house.
ADC Tatdo Borang also spoke. (DIPRO)