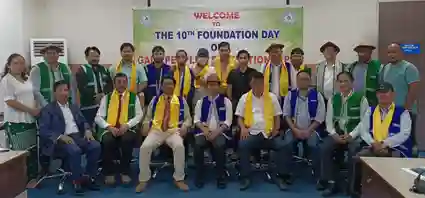 ITANAGAR, 16 Jun: The Galo Peoples Federation (GPF) has pledged to work for unity, integrity, peace, communal harmony, progress and "development of the area, the state and the welfare of the people."
The GPF took the pledge during its 10th foundation day celebration at the DK Convention Centre here on Thursday. It also held discussions on its future plans and reviewed several important works undertaken by it during the past 10 years for the welfare of the people, the community and the society at large.
The organisation also felicitated Mige Kamki, Marngu Kadu, Bamar Yinyo, Goge Sora, Minlar Raksap, Marpak Kadu, D Boje, Marjum Karlo, Kengo Ori, Gohen Doke, Marli Ingo, Jarpum Gamlin, and others.
GPF president Doya Boje elaborated "the important works being carried out by the organisation's leaders" and pledged to work for the all-round development of the community and the society.