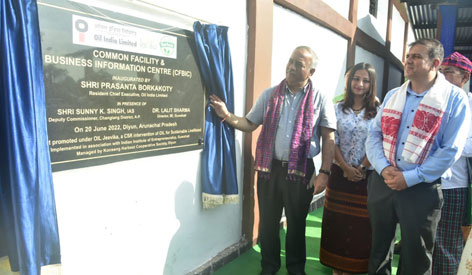 INNAO, 21 Jun: A common facility and business information centre (CFBIC) – an initiative of the Indian Institute of Entrepreneurship (IIE) in collaboration with Oil India Limited (OIL) – was inaugurated here in Changlang district on Tuesday.
The CFBIC, established under Project OIL Jeevika, was inaugurated by OIL Resident Chief Executive Prasanta Borkakoty and IIE Director Dr Lalit Sharma, in the presence of Singpho chief Chowza Maio, CIE-IIE Head Dr Sriparna Baruah, and others.
"This CFBIC will be self-sustainable for the residents of the area," said Dr Sharma.
He congratulated the beneficiaries from Arunachal Pradesh "for the results of their hard work," and motivated them to "continue their dedication."
"OIL Jeevika, the flagship CSR project aimed at enhancing the livelihood of 400 villagers across five villages in Diyun circle of Changlang and Namsai districts, will impart skill development and upgradation training to the targeted households on beekeeping and honey processing, along with mustard, buckwheat and local pulse processing," said Borkakoty.
He said that the CFBIC would also "create avenues for various other livelihood activities, thus creating a source of income for the whole of Diyun."
The project also aims to provide handholding support to the beneficiaries for generation of alternative sources of income and formation of self-sustaining livelihood clusters.
"The overall 'product basket' includes honey, beeswax, mustard oil, mustard cake, buckwheat flour, green gram, ginger powder, turmeric powder, etc," according to a release, which added that "these products have been catalogued under one brand, named HARBEST," which was launched in December 2021 at the IIE, Guwahati.
"As per OIL Jeevika's intervention methodology, the CFBIC will be run by special purpose vehicle members, under the Konseng Harbest Cooperative Society (which is a registered society formed by the local farmers)," the release added.
The inaugural function included lectures by IIE CIE Head Dr Sriparna B Baruah, OIL GM (HR&A) Polash Gogoi, OIL General Manager (Public Affairs) Debashis Bora, and CSR Senior Manager (PA) Nayana Madhu Dutta.