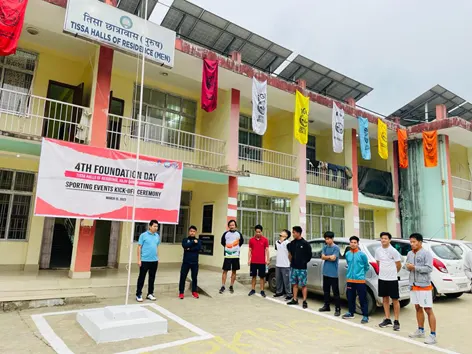 RONO HILLS, 18 Mar: The fourth foundation day of Rajiv Gandhi University's (RGU) Tissa Halls of Residence (THoR) – a research scholars' hostel for men – was celebrated at the university campus from 15-16 March with sports, literary and cultural events.
Speaking during the prize distribution ceremony on Thursday, the All Arunachal Pradesh Students' Union's (AAPSU) debate and symposium secretary Nun Pertin advised the scholars to "spread the message of intellectualism, peace and harmony, and stand for the welfare of the university and the state as a whole."
Suggesting that "RGU should organise days to celebrate cultural diversity and create platforms to discuss the challenges faced by the state today," he said that "the research scholars of RGU could bring revolutionary changes in society."
Expressing concern over the low ranking of Arunachal's literacy rate, as per the education ministry, Pertin said: "It is very unfortunate that Arunachal came in the second lowest position the very next year when the state government declared 'Year of Education', spending crores of money in the state budget."
"The AAPSU will take strong steps to unearth the reasons behind this disaster and take remedial steps to bring respite," he added.
The event's organising chairman Prem Taba informed that, "as a mark of respect to the state's wildlife diversity, this year the hostel was divided into four houses: Dibang, Daying Ering, Mehao, and Pakke."
Prizes were distributed to the winners of various competitions organised by the THoR as part of the celebration.
Hostel prefect Nabo Perme and former NESO organising secretary Marge Riba also addressed the gathering.
Earlier, on 15 March, the sports and athletic events were kicked off by hostel warden Dr Marpe Sora.
Among others, research scholars from Dibang and Siang Halls of Residences also attended the programme.