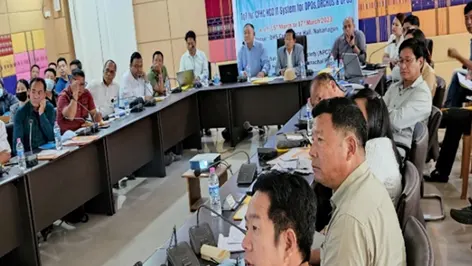 NAHARLAGUN, 18 Mar: A three-day state-level 'review meeting-cum-ToT on CPHC NCD IT system' for DPOs (NPCDCS), DRCHOs and district programme coordinators (NCD) under the NPCDCS was conducted at the health services directorate here from 15-17 March by the NHM's state NCD cell, with support from the Tata Trust.
During the programme, the NCD's state nodal officer Dr L Jampa presented an overview of the ongoing programme of the National Programme for Prevention and Control of Cancer, Diabetes, Cardiovascular diseases and Stroke (NPCDCS).
HWC assistant nodal officer Dipu Lowang presented a brief on the CPHC NCD IT system. He elaborated the role of the programme management units in the districts, and spoke on the importance of real-time uploading of data to the NCD portal.
Health Services Director Dr Moromor Lego advised the participants to properly implement the programmes in their respective districts to ensure efficient service delivery to the people.
Rajan Chakraborty from New Delhi-based Tata Trust spoke on uploading of data to the NCD portal and retrieving the data for monitoring of persons with non-communicable diseases.
He imparted hands-on training to the participants on using the NCD app, and trained them how to impart training to the medical officers and ANMs in their respective districts.