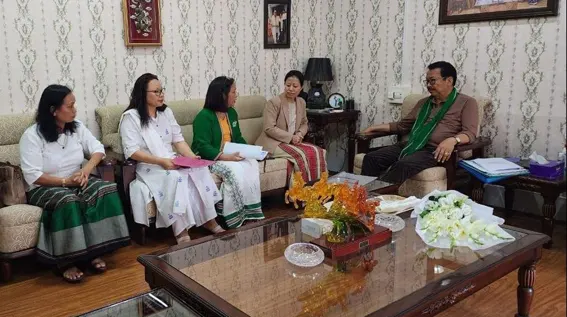 ITANAGAR, 24 May: The Arunachal Pradesh Women's Welfare Society (APWWS) has offered its assistance to the state govt to raise awareness on the issue of drug menace in the state.
In a meeting with the Deputy Chief Minister Chowna Mein on Wednesday, the members led by its president Kani Nada Maling told him that since the organization is widespread across the state and already working on the issue, it is willing to partner with the govt. While acknowledging and lauding the initiative of the govt in drug eradication in the state, the society said that given the widespread problem, more stakeholders are needed to enhance the govt's effort.
The DCM in a message appreciated the initiatives of APWWS and its district units against drug menace across the state.
"We have had enough awareness campaign and now it is time to act and we need result oriented action for rehabilitation of the addicted persons to eradicate the menace from the state," he said.
During the meeting which was also attended by leading entrepreneur of the state, Tage Rita, the need for grooming women entrepreneurs to make them more self-reliant and independent was also discussed.