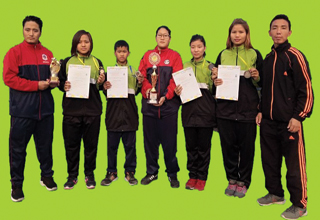 INDORE, Jan 4: The karate players and boxers of Arunachal Pradesh performed brilliantly in the National Schools Games, securing five medals in karate and four in boxing.
Arunachal bagged two silver and three bronze medals in karate with the girls contributing four out of the total five medals in the 63rd National School Games Karate, which was held here in Madhya Pradesh from 25 to 30 December.
Tamo Mepo of Sangay Lhaden Sports Academy and Minam Tekseng of GHSS, Polo Colony, won a silver medal each in individual kumite (karate) in boys (below 40 kg) and girls (below 64 kg) category, respectively.
Tamo fought neck to neck with his opponent Latish Kumar of Maharashtra. Both scored an equal 2/2 points; but Kumar was declared winner by Shensu method (first unopposed score advantage).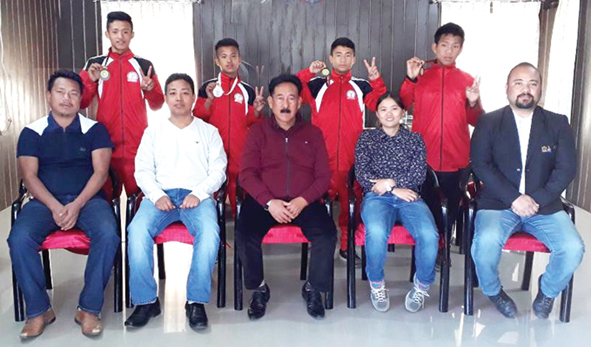 Minam also lost to her opponent from Delhi by Shensu method.
The bronze medalists were Santi Sikom (-40 kg) of government secondary school Lida, Lokam Maya (-56 kg) of government higher secondary school, Yazali, and Mering Lingfa (-68 kg) of government higher secondary school, Bazaar Line, Seppa.
The girls team finished overall third position.
Kakio Siga, teacher in-charge of the government primary school, A-Sector, Itanagar, was the chief-de-mission-cum-manager.
The boxing team won a silver medal and three bronze medals in the Games, which was held in Varanasi, Uttar Pradesh.
Niya Kino won the silver in the 36-38 kg category.
Tali Taba (38 kg-40 kg), Ravi Dodum (44 kg-46 kg) and Tadar Siyang (48 kg-50 kg) bagged a bronze medal each.
Tenzing Chogyal and Nangram Roman were the chef-de-mission and coach of the boxing team, respectively.
Director of Secondary Education, Gania Leij, along with karate and boxing officials of the state have congratulated all the medal winners.
Meanwhile, the Arunachal Amateur Boxing Association has appealed to the state government to establish a boxing academy in Itanagar with qualified coaches to groom budding pugilists.