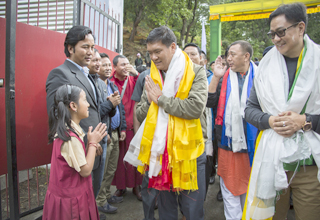 DIRANG May 5: Chief Minister Pema Khandu on Friday inaugurated the Ramakrishna Sarada Mission School at Khaso village in presence of MoS Home Kiren Rijiju, and parliamentary secretaries Phurpa Tsering and Kumsi Sidisow.
The foundation stone for the school was laid in February 2008 by former chief minister late Dorjee Khandu and was started on 17th May, 2011 with enrolment of 49 students from all over Arunachal.
He lauded the contribution of Sarada Mission School in uplifting tribal girls, who are today well placed in different professions and have become assets to their community.
For the school to sustain financially, the chief minister announced Rs 5 crore as corpus fund. He also assured to sanction funds for building of transit camp cum administrative building at Guwahati for coordination between Sarada Mission, Khonsa and Dirang.
On land for transit camp, the chief minister assured to place request with the chief minister of Assam. On incompletion of various infrastructures works undertaken under NLCPR for the school, Pema assured to clear all pending document works and payment of state matching share.
In his message to the students, Pema advised them to come up to the expectations of their parents and the society. He also urged them to contribute back to the society.
Earlier, the chief minister thanked the contributions of his father, late Dorjee Khandu and former Dirang MLA Tsering Gyurmey for bringing Sarada Mission to this remote corner of the state.
Rijiju in his speech also promised two buses for the school and also assured to take up incomplete infrastructure works under NLCPR for the school.