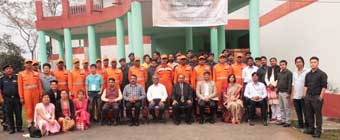 RONO HILLS, Mar 26: The three-day national level training of trainers (ToT) on disaster management concluded at Rajiv Gandhi University (RGU) here on Tuesday.
Addressing the valedictory function, NERIST Director Prof HS Yadav emphasized the need for disaster preparedness, and stressed on "the difference between nuclear fission and nuclear fusion, wherein disasters go beyond the realm or control of management mechanisms."
RGU Social Sciences Dean Prof SK Singh highlighted the importance of equipping oneself and being better prepared for any eventuality.
NDRF 12 Bn Commandant Umesh Kumar Thapliyal focused on the integration of theoretical and practical components, and presented an overview of the roles and responsibilities of the NDRF.
The technical sessions focused on institutional mechanisms and policy measures to deal with disasters, warning systems, role of airports in responding to disasters, and the four 'R's related to disasters – response, rescue, relief and rehabilitation.
RGU Environmental Science Dean Prof Nandini Singh, Dr Saumya from IGNOU, New Delhi, and Vimersh Yadav from the Guwahati branch of the Airports Authority of India were the resource persons.
RGU Registrar Prof Tomo Riba chaired the panel discussion, and shared his personal experience related to disasters in the region.
The need to include indigenous knowledge and practices of the tribal communities in Arunachal Pradesh in designing and planning disaster preparedness training was expressed by the participants.
The ToT was jointly organized by the Centre for Youth Development and Leadership Studies, and the Rajiv Gandhi National Institute of Youth Development, Tamil Nadu.
The programme will formally conclude on Wednesday with a field visit to the NDRF units in Doimukh and Dhemaji, where practical demonstration on disaster management and rescue operations will be presented.