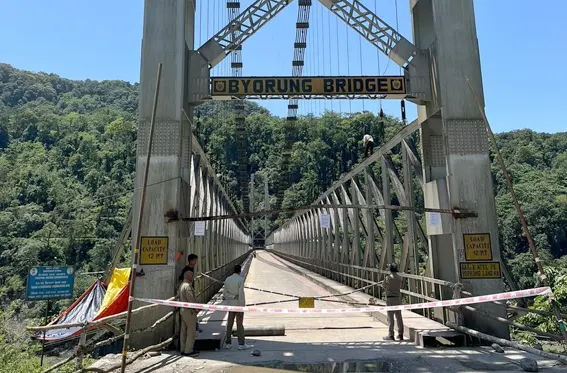 [ Bengia Ajum ]
YINKIONG, 24 May: The Upper Siang district administration here closed down Byorung Bridge, popularly known as Gandhi Bridge over Siang River after two bearings of the bridge on the Yingkiong side got damaged, barely four years after it's inauguration. The cable suspension bridge which connects strategically important border areas like Tuting with the rest of the country will remain closed from 22 May to 12 June for repairing work to be completed. The border road task force (BRTF) 761 is carrying out the repair work.
For now, the DA has opened Nobu Bridge as an alternative for people to use and light motor vehicles are being allowed to cross using this bridge.
"New bearings have arrived and we have started the work on war-footing. We will strictly complete the work as per the deadline so that people do not have to suffer," said a senior official of BRTF.
The preparatory work started in the first week of May. "Initially the bridge was closed daily for a period of 4 hours for 15 days so that preparatory work can be done. Once everything was ready the district administration was requested to issue an order for shutting down of the bridge," the official added.
 The BRTF 761 based here took over the Byorung Bridge from state PWD in 2021. The 18 tonne bridge was funded by DoNER under NLCPR scheme and inaugurated in January 2019 by deputy chief minister Chowna Mein. The bearing problem was first detected by BRTF in 2022.
Meanwhile, the work on the strategically important Yingkiong to Tuting road is progressing at slow pace owing to various reasons.
"The 98 km long Moying to Migging road has been divided into 4 packages. The work has started in some stretches. In the 50 km long Migging to Tuting road, the work is being carried out only in half portion for now. The land acquisition issue is causing lots of problems. Also, the difficult nature of terrain makes it extremely challenging to execute this kind of project," said the BRTF official.