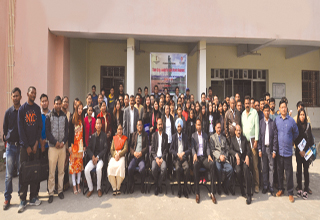 NIRJULI, Jan 15: Principal Chief Conservator of Forests (PCCF) Omkar Singh has said that Arunachal Pradesh has a lot of scope in ecotourism and the government needs to formulate policies for its promotion.
Singh was addressing the inaugural function of a five-day training programme on 'Climate change adaptation for natural resource management', jointly organized by the Bhopal-based Indian Institute of Forest Management and the NERIST's forestry department, here on Monday.
Proposed for four different groups of stakeholders – legislators, government officials, panchayat members, and academicians – the programme is aimed at sensitizing them to use their offices in formulating and promoting a policy related to climate change adaptation strategies, so that they may plan to undertake applied research, monitoring, evaluation and planning.
"Understanding climate change is necessary at not only the institutional and departmental levels but also at an individual level," Singh said.
He said the forests in Arunachal Pradesh support varied flora and fauna, including species of rhododendron, orchids and medicinal plants, but remain unexplored.
"There is urgent need for establishing a sanctuary of rhododendron, besides eco-clubs and training institutions," Singh said.
Citing the success story of community forest conservation in the Shergaon forest division by the indigenous people there, he advised all to emulate their example.
Convener of the programme, Dr OP Tripathi called for a "collaborative, community-based and participatory approach" on the issue of climate change adaptation, adding that efficient watershed management and water budgeting, soil health, and disaster-risk mitigation strategies are also of paramount importance.
"The common people and farmers are ready to adopt good practices and adapt to the changes brought about by climate change; hence the entire approach instituted has to be bottom-up," he opined.
Chairperson of the Centre for Climate Change Cell, IIFM, Prof Bhaskar Sinha, Dr Karuna Shrivastva, NABARD DGM V Thirumalia, and NERIST Registrar Dr RP Bhattacharjee were also present at the programme.