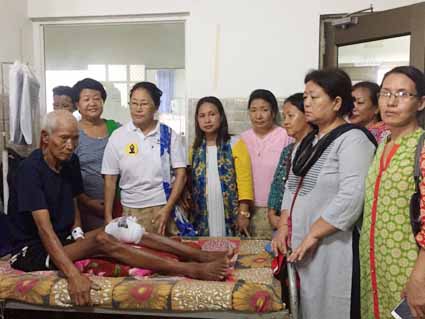 ITANAGAR, Jun 21: The Arunachal Pradesh Women's Welfare Society (APWWS) has called on the state government to extend financial support to 80 year old Bini Todum, who was seriously injured when an Indian Air Force (IAF) fighter plane dropped a bomb during one of its regular drills over Ruyu village in Dollungmukh circle of Kamle district on 8 June.
The APWWS further called on the Pema Khandu government to take up the matter with the IAF.
A retired SSB soldier, Todum is currently admitted at the Tomo Riba Institute of Health and Medical Sciences in Naharlagun.
A team of the APWWS visited Todum on Thursday at the hospital to enquire about his health.
The relatives attending on him informed the team that other than help from individuals, there has been no offer of help from the state or the IAF.
The family informed that IAF personnel had visited Todum in the hospital, but the family has not heard from them again.
Dr Lenin Ligu who is treating Todum said that he is recovering well after the surgery.