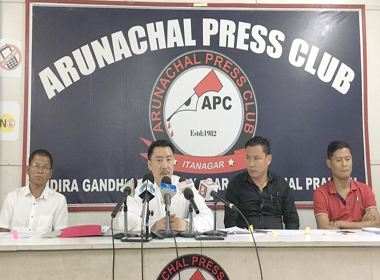 Staff Reporter
ITANAGAR, Jun 15: Yachuli MLA Likha Saaya has vehemently rejected the claim of former Lower Subansiri deputy commissioner Kemo Lollen accusing Saaya of threatening him and his family and also the person and family of DLRSO Bharat Lingu.
Addressing media persons at the press club here on Friday, the MLA termed the DC's allegation a ploy to tarnish his image.
"I have been defamed on all social media platforms and my hard-earned reputation has been tarnished by these claims. If at all there was any actual threat to his and his family's lives, Lollen could have lodged a complaint with the police first, and then proceeded to write to the higher authorities if he was dissatisfied; but he did not do anything of the sort," Saaya said.
He also questioned why Lollen wrote the complaint on behalf of the DLRSO when the DLRSO could have written one himself.
He said Lollen made such claims because he was displeased at being transferred from Lower Subansiri.
"I would like to clarify that the decision to initiate Lollen's transfer was made by MLA Tage Taki and me following numerous public complaints, and not in a single day as has been alleged by him. In the past, both of us on a number of occasions wrote to the then DC Kemo Lollen, urging him to ensure
that the Joram-Koloriang road project is taken up in a transparent way and completed soon. But till date we have not been apprised of the same. Apart from this, there are already many complaints against him, which have been placed with the governor, the MoS, and the chief minister, while many court cases against him are still pending," Saaya said.
Clarifying his stand over the allegations of siphoning off Rs 24 crore from the Joram-Koloriang TAH project and another Rs 40 crore from the Potin-Bopi road project, Saaya termed the allegations baseless and said neither he nor any of his kith and kin received huge amounts of money.
He accepted, however, that wife was one among his family members who received compensation money against her plot of land along the Potin-Bopi road.
The Yachuli MLA also denied the allegation of forcibly extracting Rs 3 crore as bribe from Lollen. He said Lollen was not the Lower Subansiri DC when Saaya along with one Khoda Apik had sought a loan on 30 January, 2015.
"There is a money receipt from the then DC KM Ligu also, which clearly proves that it was a loan which has been duly returned within time, and not bribe as has been alleged," Saaya said.
He claimed that after he lodged an FIR at the Yazali police station against Lollen on 7 June, Lollen lodged a complaint at the same PS, claiming that the letter which has been circulating on social networking sites was not written by him and was forged.
"It clearly proves that Lollen had circulated the letter, and is now trying to avoid a criminal case against him," Saaya said.
The Yachuli MLA has filed a criminal suit against Lollen.