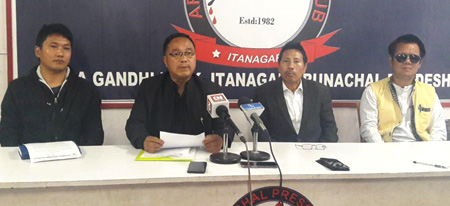 Staff Reporter
ITANAGAR, Mar 4: The NEFA Indigenous Human Rights Organisation (NIHRO) on Monday demanded a thorough judicial probe into the recent incidents that led to the "violation of human rights and civil liberties" in the state, and demanded a gazette notification on the withdrawal of permanent resident certificates (PRC).
Addressing a press conference at the Arunachal Press Club, members of the NIHRO said the only way to scrap the PRC issue for good would be for the government to issue a notification that it will not be discussed further.
NIHRO president Domin Loya pointed out how various political leaders, such as former chief minister Jarbom Gamlin and
Arunachal Pradesh Congress Committee president Takam Sanjoy "had used the PRC card to pull the people."
Stating that the NIHRO is not against the non-APSTs of the state, he said, however, that "it is unfortunate that the government is trying to give PRCs as personal property."
Loya also demanded that the state government compensate for the losses caused to private and public properties.
Raising doubts on the integrity of Chief Minister Pema Khandu, Loya also asked what had happened to Khandu's announcement of initiating a CBI inquiry into the infamous PDS scam.
He said Khandu conveniently asked for inquiry into the PDS scam from 2007 onwards "while his name is involved in the PDS scandal from 2004 to 2006."
Loya also pointed out that no conclusive or strategic action has been seen on the ground with regard to the assurances of CBI probes into the deaths of former chief minister Kalikho Pul, former MLA Ngurang Pinch, and students Toko Yame and Ojing Tayeng.
The NIHRO enumerated several other issues, including the CM's statement that the citizenship amendment bill would not affect Arunachal Pradesh and then expressing reservations against the bill after large-scale protests in the state and the Northeast region.
Loya informed that all former members of the All Arunachal Pradesh Students' Union (AAPSU) will hold a meeting with the current body of the AAPSU to discuss their stand on the PRC issue.
"A letter has already been endorsed to the AAPSU, and former members will not include those in political parties," he said.
"We do not have power over the AAPSU, but they are answerable to the public, and we need to have consultations," Loya added.